ENT PRACTICE
EVERYTHING AT ONE LOCATION
Whether preventive care, surgery, postoperative care or follow-ups – with ENT physician Dr. Prochnow you get everything in one place. In addition to surgical care, your ENT surgeon Dr. Prochnow is at your side with the utmost care in all matters of prevention, preventive examinations, post-operative care, and aftercare.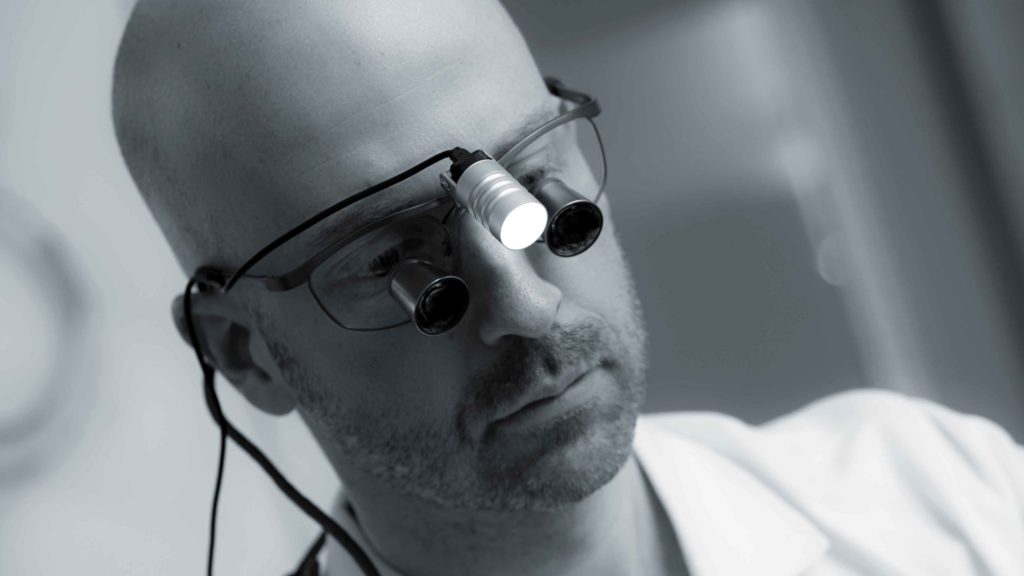 FOLLOW-UP EXAMS ARE POSSIBLE
Dr. Prochnow – An ENT surgeon you can trust
For Dr. Prochnow's patients, only the best is good enough. Thus, Dr. Prochnow devotes himself in particular to his special fields – minimally-invasive, gland-preserving salivary surgery and endoscopic paranasal sinus surgery in his holistic ENT practice.
For this purpose, modern technology (sonography, microscopy, flexible and rigid endoscopy, etc.) is available to you in the private practice for holistic ENT. Diagnostics and therapy are thus carried out according to current standards and guarantee very good care.
THE FOLLOWING EXAMINATIONS ARE POSSIBLE:
Ear microscopy
Nasal microscopy / endoscopy (rigid and flexible)
Endoscopy of the pharyngeal sections as well as the larynx including photo and video documentation
Ultrasound examination of salivary glands, lymph nodes, soft tissues of the throat, vessels, tonsils (so-called tonsils), the floor of the mouth and the thyroid gland
ENT SURGERY AT THE HIGHEST LEVEL
Whether interventional ultrasound diagnostics, minimally-invasive salivary gland interventions or endoscopic paranasal sinus surgery – ENT surgeon Dr. Prochnow offers ENT surgery at an exceptional level in his private practice.
Before opening his own practice, Dr. Prochnow worked for many years as an ENT doctor at the University Hospital in Heidelberg and most recently at the University Hospital in Hamburg – Eppendorf. Here he built up a reputation as an expert for gland-preserving, minimally-invasive salivary surgery. He is also a specialist in the field of endoscopic paranasal sinus surgery. Dr. Prochnow was able to gather further expertise through international stays abroad as well as further training at Monash University Melbourne, Duke Medical School in North Carolina (USA), and as a student and visiting doctor at Harvard Medical School in Boston (USA) and the University of Zurich and Vienna, among others.
Your ENT specialist uses this accumulated experience to maintain and restore your health.
The ENT surgeon you can trust
Do you have ENT problems and are still looking for a specialist with whom you are in good hands? Trust the distinguished expertise of ENT surgeon Dr. Prochnow. He combines precision, years of experience, and a holistic view of the patient in his work.
You too can enjoy the world with all your senses.
Schedule an appointment today!
THE FOLLOWING PROCEDURES ARE OFFERED BY DR. PROCHNOW:
Our senses connect us to the outside world. Protecting, preserving and restoring these gives us freedom and joy in life again.
Freedom of movement enables peak performance.
Reducing blockages means increasing performance.
The insertion of a small needle often works small wonders.
Acupuncture is tried and true,
and helps with a wide variety of complaints.
It is not the doctor who heals, nature does. The doctor serves only as faithful helper and servant. He will learn from it, but nature will never learn from him. (Hippocrates)

Unsere Sinne verbinden uns mit der Außenwelt. Diese zu schützen,
zu erhalten bzw. wiederherzustellen gibt Freiheit und damit wieder Freude am Leben.
Bewegungsfreiheit ermöglicht Spitzenleistungen.
Blockierungen zu reduzieren, heißt Leistungsfähigkeit zu steigern.
Das setzen einer kleinen Nadel wirkt oft wie ein
kleines Wunder. Die Akupunktur ist altbewährt und hilft bei den
unterschiedlichsten Beschwerden.
Nicht der Arzt heilt, sondern die Natur.
Der Arzt kann nur ihr getreuer Helfer und Diener sein.